Green Sauce 1 Bottle Pack
A perfect blend of multicultural ingredients and robust seasoning. Handcrafted in small batches. From our family to yours since 1996....

MILD SPICE
A perfect blend of multicultural ingredients and robust seasoning.
BOOST FLAVOR
Forget other condiments and add real flavor with this robust creamy sauce.

CULTURALLY ROOTED
A multicultural fusion that preserves its vibrant Peruvian heritage.
QUALITY INGREDIENTS
Only the finest, natural ingredients are used to give a deep, robust flavor.
A perfect blend of multicultural ingredients and robust seasoning. Handcrafted in small batches. From our family to yours since 1996.
El Gordo Green Sauce - The Saucy New Queen of Condiments
Every time Monica Velis served her famous chicken with her original green sauce at El Gordo restaurant in New Jersey, she noticed a pattern. She saw pure joy on her customers' faces. And she knew that her version of the classic Peruvian green sauce was something that ensured repeat customers.
It took Monica twenty-five years to perfect her Mother's authentic method. After moving to the USA, she introduced multicultural ingredients that boosted the robust flavor of the Peruvian sauce. And with that she won her customers' hearts.
Her version of the traditional sauce was new, and intriguing. With its unique taste, which is spicy but never hot, and with its fresh, green color, and creamy texture – it has become a must-have condiment for many North American families.
It was created, not only to make your dishes taste better, but to make them taste delicious. Once you try El Gordo's sauces you will forget other flavorings. The queen of sauces rules your taste buds, and she just walked in the room. She has everyone's undivided attention.
ONLINE SHIPPING
Where can I buy El Gordo Green Sauce?
Since 2020, we have sold our selection of sauces at our three restaurants - located in Jersey City, Passaic and Union, NJ. In addition, beginning in 2022, we have established online sales via our website. We Shipping nationwide.
When do you ship orders?
Our Sauces are Handcrafted in small batches to ensure quality and freshness therefore we will Ship on only Tuesdays and Thursdays, with a priority delivery time of 3-5 business days.
How long do I need to wait for delivery?
The waiting time for delivery depends on your location but we do our best to get you your sauce as soon as possible. Shipment within the U.S. usually takes up to 3 business days, and international shipment takes between 10-14 business days. If your sauce hasn't arrived within that period, please get in touch and we will try to track and locate the package.
What packaging is used when shipping the sauce?
Out of a genuine concern for the environment we avoid using plastic in our packaging. The original sauce comes in a glass bottle that we carefully secure with natural materials, and then pack in a durable paper carton. You can be assured that your precious cargo will be well protected during transportation.
What if my package is lost?
Sometimes, despite the best of intentions, things can go wrong. In the unlikely event that your package goes missing, we will deal directly with the transportation company once you inform us of the problem. In case of irreparable damage we offer you a replacement free of charge.
How can I track my parcel?
Every order has a unique bar code that allows you to track the parcel in real time. Whenever you place your order, you receive a notification with a dedicated code that allows you to track the package. Just visit the transportation company website, type the code and check when it's going to arrive at your home.
Can I return the product?
This is very unlikely but, of course, you have the right to return the unopened and undamaged product within 14 days from the delivery date. Please check our return policy to find out more. However, we believe in our product and provide a 100% satisfaction guarantee. If by any chance you don't like our product, we will give you your money back. No questions asked.
Green sauce FAQs
What does it taste like?
It tastes like heaven! But be careful because this flavor is addictive – just ask our customers who say they could drink it directly from the bottle! If we had to describe it in just one word, we would say the flavor is robust. It's creamy yet fresh. Never dull and never hot – it has an extra kick but it's not a spicy sauce. The multicultural ingredients balance its unique taste. You will absolutely adore our version of the traditional Peruvian green sauce. It's delicious!
How hot is it?
The short answer is "It's not hot." Our green sauce has a medium spicy heat and it's not described as a hot sauce. A small quantity of peppers give the flavor of El Gordo Green Sauce a little extra 'kick' without making it too hot or spicy. So don't worry if you don't like or can't eat spicy food. Our Green Sauce is just perfect!
What can I eat it with?
Our masterpiece was inspired by the classical Peruvian green sauce. Traditionally, it was used to marinate rotisserie chicken, and then people would dip their fries and chicken in it while eating. But what you can eat El Gordo Green Sauce with is only limited by your imagination! You will find that it's a flavorsome addition to everything from snacks and veggies to shrimps and red meat. You can spread it on sandwiches, drizzle it over salads, or have it as a side to your favorite fish or bbqmeat. Forget other flavorings – the saucy queen of condiments is here!
What makes it better than other Peruvian green sauces?
We based our unique formula on a traditional Peruvian recipe which we tweaked by adding a variety of multicultural ingredients. The key parts of El Gordo Green Sauce are Jalapenos and Jamaican Hot Pepper, instead of typical Peruvian spices such as Aji Amarillo or huacatay. We also use cilantro, crackers and mayo to highlight the creamy texture. But what truly makes our green sauce special are the people who stand behind its creation. It was the first Abuela, who invented the sauce 25 years ago in Lima. Then her Daughter who boosted its flavor with multicultural ingredients and introduced it to the public at her restaurant in New Jersey. Today, it's the Granddaughter, who together with a team of dedicated and passionate people, work tirelessly to pass on the family legacy.
Does it come in glass or plastic bottles?
The original El Gordo Green Sauce is always bottled in small, glass bottles rather than plastic to avoid the smell and taste permeability, and to protect our planet. Glass packaging is not only a recyclable material, and an eco-friendly and conscious choice, but also it protects the sauce itself from moisture, air and other microorganisms that could spoil its unique taste.
Does it need to be refrigerated after opening? How long does it stay fresh?
Yes, please, keep it in your fridge! The reason is simple – we don't use any preservatives in our formula. The sauce is produced locally in small batches, using only natural ingredients from trusted suppliers. For that reason, we strongly advise on refrigerating the sauce and stocking it for a maximum period of 21 days after opening.
Is it gluten-free?
Absolutely, YES! Our El Gordo Green Sauce is gluten-free, paraben-free and preservative-free.
A Flavorful "Condiment" to Everything.
What you can Dip. Pour. Spread our Sauce onto is only limited by your imagination.
What can I eat it with?
Our masterpiece was inspired by the classical Peruvian green sauce. Traditionally, it was used as "side" Sauce to dip your chicken and fries into.
Drizzle on tacos, veggies or over salads
Pour over your favorite fish or shrimp
A perfect dip for chicken, red meat, and your favorite omelets.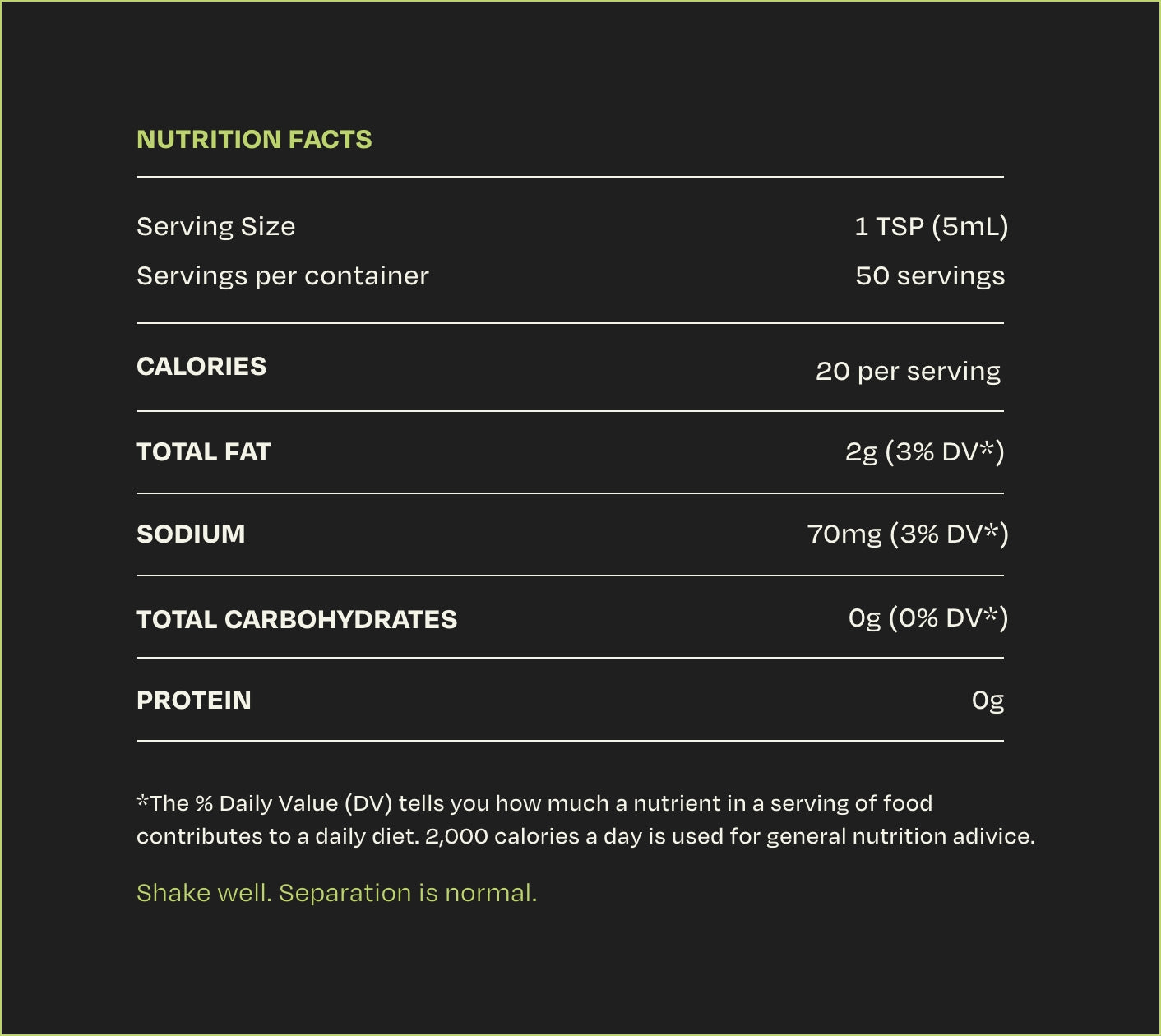 Nutrition Facts
Ingredients: Water, Vegetable Oil, Onions, Saltine Crackers, Jalapeños, Vinegar, Salt, Habanero Peppers, Celery, Green Peppers, Mayonnaise, Mustard (Distilled Vinegar, #1 Grade Mustard Seed, Salt, Paprika, and Garlic Powder), White Pepper.
Mild Spice to Boost Flavor
Fresh Ingredients
Natural ingredients with no preservatives
Share the love (and sauce!)
Can't get enough green sauce
"I love the perfect flavor of the green sauce. My entire family loves it. It adds flavor to our tacos, chicken, and French fries! I stock up on green sauce because it goes fast in our household."